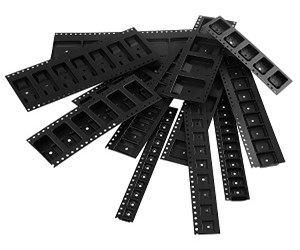 We manufacture embossed carrier tapes that meet EIA, EIAJ and the European standards using our own proprietary embossing machines. These machines are designed with the concept of 'SIMPLE' that allows minimal changeover time.
Besides the standard parts, we have technology to manufacture non-standard packages to house specialized parts like metal stamping parts and also to make deep-pocketed packages(up to 25mm). A thicker material may have to be used for these deep pockets.
Our basic material used for our carrier tape is Polystyrene (PS) but we do use other materials like Polycarbonate (PC), Styrenic Alloy (SA) and Amorphous-Polyethylene Terephthalate (APET). The materials used are specially formulated to provide consistent sealing strength and stable surface resistivity.
Precise dimensions are ensured in our process and well-defined pockets are designed for high-speed automated taping and surface mount equipment.

CAPABILITIES

​Micro Pockets

Small minute pockets with sharp corners and clear outline definitions to be made with minimum 0.15 mm pocket hole diameter.

Pocket dimensions achievable : 0.30mm (Ao) x 0.40mm (Bo) x 0.27mm (Ko)
Pocket Hole Diameter : 0.15mm
Available Material : PC




2D Laser Marking on Carrier Tapes

Unique 2D barcode is imprinted on either rib area or between sprocket holes.
The barcode is using ECC200 standard, which enables users to read and validate the barcode for traceability purpose.

Rib Area





Between Sprocket Holes



SPOT (Sharp Pocket Opening Tape )

Forms pockets with sharp pocket opening radius, small draft angle and shallow Ko for thin component such as WLCSP & Bare Dies. Advanced technology developed and patented by C-Pak.
Pocket Opening Radius : 0.1 mm (max)
Draft Angle : 0 – 2°

Sharp Formed Opening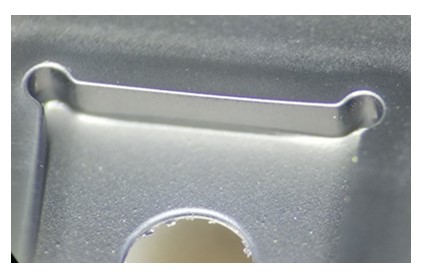 Near Vertical Draft Angle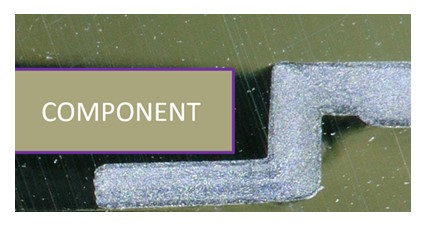 ---
Categories:
Protective Bands

Spacer Tapes

Micro Pockets