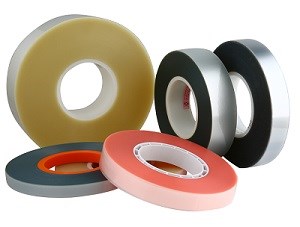 C-Pak offers Total Packaging Solution to our valued customers. With this concept, we also provide antistatic cover tape other than carrier tapes and plastic reels.
C-Pak has been developing proprietary cover tapes with established manufacturers that will give optimum performance when used with C-Pak carrier tapes. These cover tapes have gone through a series of compatibility tests that may include testing on our competitor's carrier tape materials before it is launched to the market.
We offer two different kinds of sealing cover tape, namely Heat Sealable tape (HSA) and Pressure-Sensitive Adhesive tape (PSA). The difference is that there is no heat-treatment required for PSA cover tape.
The adhesive system is specially developed to enable a tight range in the sealing strength. Furthermore, a stable sealing strength through time is also ensured. The Recommended Sealing Parameters (for heat-sealable tape) are listed in individual cover tape material specification.

Cross Wind (HSA) tape is available in 5.x and 9.x mm width and 2000 m length
---
Categories:
Heat Seal Cover Tapes

Pressure Seal Cover Tapes

Cross Wind Heat Seal Cover Tape